You know what I really like about playing my bowls? … they always do their best to bring balance.
The vibrations from singing bowls help balance the physical, mental, emotional and subtle bodies.  Bowl sessions help bring the vibration of your entire being into a more harmonious, balanced pattern.  A disharmony within the body could manifest as anything from a slight annoyance to an illness (or dis-ease) … and people have come to my sessions for all kinds of reasons.  I'd like to share a bit of what I've heard and share a little more of what one of my sessions might be like.
I play seven quartz crystal bowls … and deliver a solid 45 minute sonic immersion into the vibrations & tones of quartz crystal singing bowls.   Each session begins and ends with the brief gentle tones of metal bowls …
(Video & Photo from Intelligent Sleep, Austin TX)
Every time I play my bowls, I sense their energy as going out and 'hitting the high-spots' on everyone … the spots that are screaming out in dis-cord!  It's like they find the areas of disharmony (dis-ease) and brings them into more of a relaxed, balanced state of being.
One comment I hear quite often is the vibrations seemed to go to a certain spot on their body … their back, leg, hip, arm, neck.
Once someone told me that everything went into their one finger! But with each person, the vibrations went to the exact spot in which they were having problems. Even the person with the finger … they said that particular finger had been bothering them all day!  Bowls help bring order to disorder.
I played regularly at two Cancer Centers up in New Jersey.
Participants would comment that they slept better … sometimes for days after. That they didn't know why but they felt healthier.  In some cases sessions alleviated pain.  All I know … is that they came.
Bowls seemed to help take them away from the stresses of dealing with their disease for a while … and transport them to a place of peace and relaxation.  One person said (just after I ended the session & everyone was still laying there) "I feel like I got eight hours of sleep in just one hour!"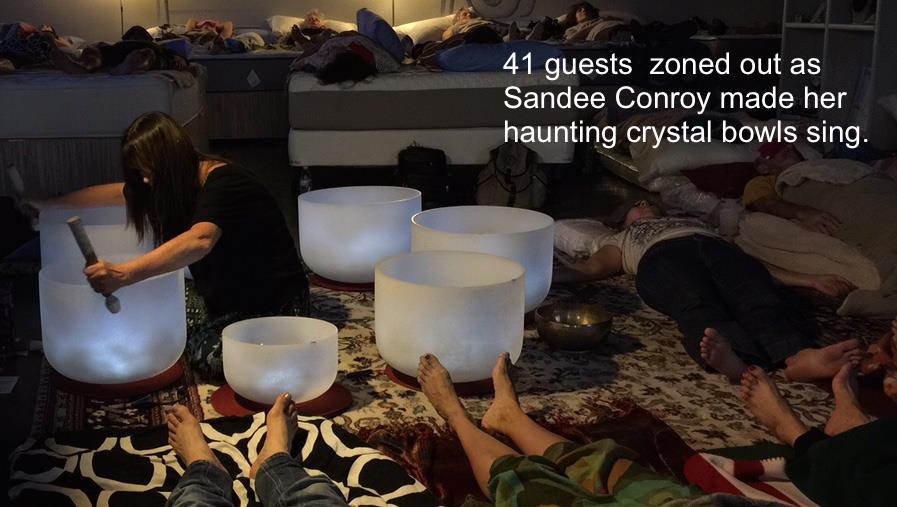 My bowls never cease to amaze me.  I hesitate to say what they can or cannot do anymore, because I almost always hear of something new.
I've seen people with paralysis say they felt a 'vibration' in an area for the first time.
Pains will dissipate. Allergies/sinus improve.
They understood a dream while at my session.
People tell me of amazing meditative states they've attained during my sessions.
People sometimes see colors, hear sounds.
I've seen people release very intense emotional bindings … things they didn't even know were there.
I've seen a lot.
And I absolutely know there is more yet to come …
what could your story be …